How much jail time could you face if found guilty of sexual assault?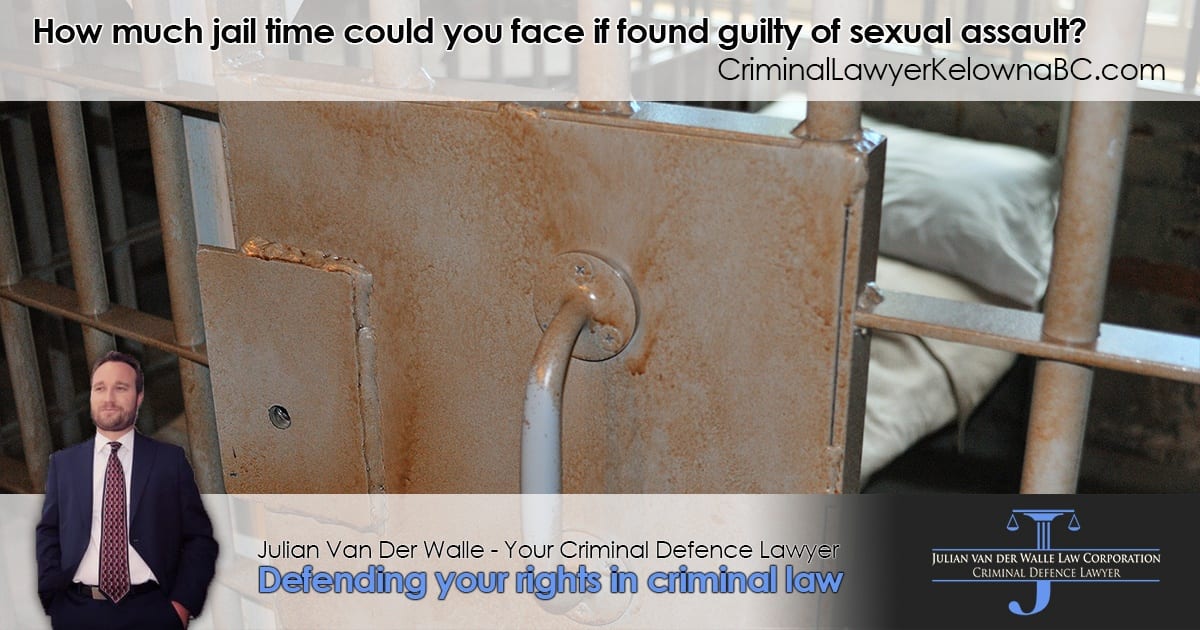 Under Canadian federal criminal law, sexual assault crimes are treated very seriously. Along with murder, rape and sexual assault crimes carry some of the harshest criminal sentences under the law. That said, there are many different possible sentences that someone convicted of sexual assault can receive. If you have been charged with a sexual assault crime, it is important to understand your rights under the law and to have an idea of what type of sentence you may be facing.
Types of Acts that Can Be Considered Sexual Assault
The term "sexual assault" is defined vaguely under Canadian law for a very simple reason: there are hundreds of different types of criminal acts that can be considered sexual assault. In other countries such as the United States, sexual assault crimes are divided into different crime categories depending on the nature of the act. In Canada, this process is simplified by combining them all into one cohesive sexual assault category.
In general, sexual assault refers to any non-consensual sexual act between two people. The offender can be charged with sexual assault. The most commonly known type of sexual assault crime is rape. Sexual assault can also include many other types of acts including forced anal or oral sex, forced penetration with an object, or other non-penetration types of acts such as groping.
Categories of Sexual Assault Charges
There are five broad categories of sexual assault crimes that you should be aware of. Each of these offenses can carry very serious criminal penalties, but some will result in longer sentences than others.
Aggravated Sexual Assault
Rape is considered to be one of the most heinous felonies that one can commit, and therefore, it carries some of the highest criminal penalties allowed by law. In fact, rape used to be punishable by death. Under the current federal law, rape, commonly known as aggravated sexual assault, is punishable by twenty-five years in prison to a life sentence prison term.
Forcible Sexual Assault or Sexual Assault with a Weapon
While aggravated sexual assault is the worst version of any sexual assault crime, other similar offenses are subject to similarly harsh punishments. Under Canadian law, any crime committed forcibly or with the use of a weapon such as a knife or a gun will result in larger criminal penalties. This type of forcible sexual assault crime is punishable by a maximum of fourteen years in prison.
Indictable Sexual Assault Offenses
Under Canadian law, offenses can be either indictable offenses or summary offenses. Indictable offenses are generally more serious crimes and can receive larger possible prison sentence terms. At the same time, however, the accused is offered more opportunity to defend themselves against indictable offenses. The maximum sentence term for indictable sexual assault is ten years in prison.
Sexual Assault Tried as a Summary Conviction Offense
The least offensive forms of sexual assault may be tried as summary offenses. If an offense is tried as a summary offense, the maximum amount of time in prison is six months in jail and no more than a $2,000.00 fine.
Sexual Assault Against Children
In Canada, having sex with anyone legally under the age of consent is considered sexual assault. While this category of sexual assault offenses could technically be tried as any of the above categories of sexual assault crimes, it is notable as a separate category because the laws relating to child sexual assault crimes are different from adult sexual assault offenses.
A Permanent Criminal Record
Under the federal Criminal Records Act, many crimes can eventually be pardoned by the federal government; however, sexual assault is not one of them. Because a sexual assault is considered a type of crime against the public, the law prevents the full pardoning of sexual assault crimes. This is because the government believes that all Canadian citizens have a right to know if someone who either lives near them or has some other contact with them may be a dangerous sexual predator. If you are convicted of sexual assault under Canadian law, your criminal record will be permanent.
Defending Against Sexual Assault Charges
Sexual assault crimes carry potentially large criminal penalties, and it is very important that you mount a strong criminal defense in court. For this reason, it is highly recommended that you contact an experienced criminal defense attorney if you have been charged with a sexual assault crime. Representing yourself in court can be very dangerous and statistically results in longer criminal sentences.
As a whole, the Canadian justice system is very fair. The accused enjoy the right to be present and be heard in court, the right to remain silent, and the right to representation by legal counsel. That last right is one of the most important rights of...
read more